Document Services
Formatting Existing Documents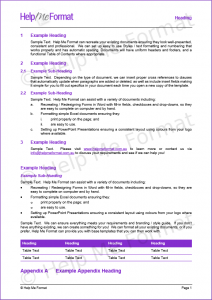 Help Me Format can re-create your existing documents so they look professional, consistent, and are easy to read.
We will set up simple to use Styles / text formatting with numbering that works properly, and has correct indentation and automatic spacing; so if you need to make further changes yourself, you can.
Documents will have uniform headers and footers, and a functional Table of Contents where appropriate.
Where applicable, we insert proper cross references to clauses which automatically update when paragraphs are inserted or deleted; as well as include insert fields, making it simple for you to fill out specifics in your document.
Any document with data that changes for each client will be set up as a proper Word Template so you open a fresh copy of the document each time, ensuring you are not accidentally leaving anything in or out.
We can even set up data auto-populate.  This means you only enter key data once, then it appears throughout the document where required automatically.
We can ensure the style and layout of documents meets your requirements and Branding / Style Guide if required; even picking colours from your logo / website for Headings and Table Shading if you wish.
In general, we prefer to re-create documents from scratch, ensuring everything is set up correctly, minimising the chance of any issues arising down the track.
Depending on the type of document, we may be able to provide you with some Training Material regarding its use.
Please check out our Portfolio to get a feel for the types of documents and styles we can do.
Read some of our Client Feedback.
Types of Documents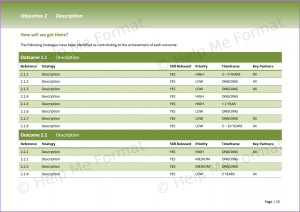 Word Documents – our specialty

Features include:

Styles / Text Formatting; Tables; Headers and Footers; Tables of Contents; Images; Cross References; Insert Text Fields; basic SmartArt.
Simple Custom Forms with Fill-In Text Fields and Checkboxes.  These templates can be saved with Document Protection so a user can only edit the fields, not change the forms.
Basic Mail Merge from Excel into Word.

Excel Spreadsheets

Features include:

Formatting for Ease of Use, Presentation and Printing; basic Drop-Down Lists; basic Formulas; basic Charts.

PowerPoint Presentations

Features include:

Setting the Master Layout with basic Theme and Colours; Transitions; Timing.

Publisher Layouts

Features include:

Setting key Styles, Image placeholders, Sample text to amend.
Basic layout for a brochure, flyer or poster – we are not a graphic design company.

Examples of the types of documents include:

Tenders, Contracts, Policy and Procedure Manuals, Reports, Legal Agreements and Precedents, Quotations, Invoices, Letters, Customer Information Forms, Résumés / Curriculum Vitaes (CVs), Government Community Strategic Plans and Corporate Business Plans; University Assignments; Theses; Newsletters; Client Lists; Flyers; Brochures; User Guides; Training Manuals; Safe Work Method Statements (SWMS); Menus; Flowcharts.
Check out our Portfolio to see samples of documents we have created.
Document Creation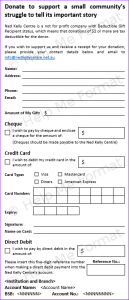 If you have an idea and some content, but don't know where to start, we can create something to meet your needs.
Contact us to discuss.
Template Creation
If you don't have any existing documents to format yet, or would prefer to do so yourself, we can create a set of Base Document Templates with Styles that you can then use to create your documents.
Troubleshooting – Fixing Issues With Existing Documents
In many cases, we can help fix that pesky problem!
For example, you might have an issue with:

A Table – Header row isn't repeating on each page as it should; large gaps.
Headers and Footers – Page Numbering isn't working, or they just aren't displaying as you want!

Please note that unless it's a really easy fix, in many cases we will recommend re-creating the document / template from scractch.  This way we know your document and Styles will be easy to use, robust and work correctly now and in the future.
Contact Us
Contact Us for a confidential discussion, to see if we can Help you!