Document Styles & Templates
Help Me Format can create, or re-create, a set of base templates and styles to meet your needs, helping save you a lot of time and frustration.
Customised Word Styles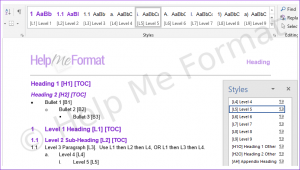 Properly created Styles in Microsoft Word allow you to apply formatting to your text easily, quickly and consistently.
Styles have set Font Type, Size, Colour, and other properties such as Bold, Italics, Spacing and whether the text is Left Aligned or Justified.
When created and used correctly, Styles ensure document numbering works properly, has correct indentation, and has automatic spacing applied.
Heading Styles allow the Table of Contents to be built and updated easily.
Our Styles have easy to remember codes at the beginning, and show in the Styles Pane and Styles Group in a logical order, so selecting the one required is simple.
We even set up Customised Keyboard Shortcuts so you can apply your Styles quickly that way if desired.
Whether applying to text as you create your document, or to text you have transferred from another document, Styles will save you hours of time formatting, and provide a consistent, professional look to your document.
Templates
Each time a template file is accessed, it opens a copy of the document so it can be amended as required.  This ensures the original file stays intact, and data is not accidentally left in or out of the new version.
Along with the Styles, a base document template will have various elements set including the Page Margins, Headers and Footers, Table of Contents, Tables, and a Front Cover if required.
Why have set Templates & Styles?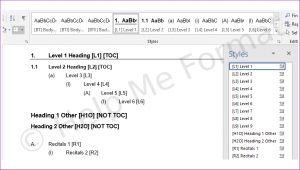 Overall, documents from the one company should always have the same look and feel.
It is important in business to have a branding / style guide for your documents – we can help you design yours if you don't already have one.
We can pick the colours from your Logo / Website and use those within Tables and even Headings if desired.
We can set up a suite of document templates for various uses including Reports / Agreements, Letters, Marketing / Sales Documents, Newsletters, Flyers and Presentations.
Creating your document from a base template each time means the finished product will, in essence, look the same every time.
From a base template, you can create your one-off document, or create other base templates containing set text for a particular purpose.

We can of course help you create these other templates, however we will provide Training Material on use of your Styles and Templates so you get the most out of your documents, as well as learn a few other Word Tips and Tricks as well.

We create professional looking documents with robust Styles that are easy to use.  Please checkout our Portfolio to get an idea of the types of documents we can create.
Please read our Document Formatting Services section, as much of the information applies to Styles and Templates as well.
View our Rates & Terms.
Read some of our Client Feedback.
Contact Us to discuss your needs.
Types of Templates
Whilst creating Text and Numbering Styles in Word Templates is our speciality, Help Me Format can also create other basic templates.
We can create, or re-create, Forms where a user can complete data.

We create these in Microsoft Word, setting Text Fields and Checkboxes.  We can then protect the document, so a user can only fill in data, not alter the form, if desired.
These can also follow your branding / style guide.
Our forms can be filled out on computer, or by hand – we make sure there is enough room for someone to do this, as there is often still a need for forms to be handed out to be completed.

We can create basic Excel documents with simple calculations, that look professional and print properly.  Having this set as a template will ensure each user gets a fresh copy each time to input their specific data.
A PowerPoint Presentation template with the same look and feel as your other documents can also be created, making it a breeze to create a quick slideshow.