Training Material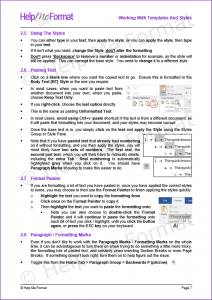 Our library of custom training material is always expanding.
Current topics for Microsoft Word include:

Working With Styles and Templates
Cross References
Inserting A Landscape Page
Document Protection

These manuals and quick guides are written step-by-step with accompanying screenshots, to help you follow along and achieve your end goal.
In some cases, we may even provide you with an accompanying training video.
Although these are usually provided in conjunction with creating Styles and Templates, written material is available to purchase separately. Contact Us to discuss.